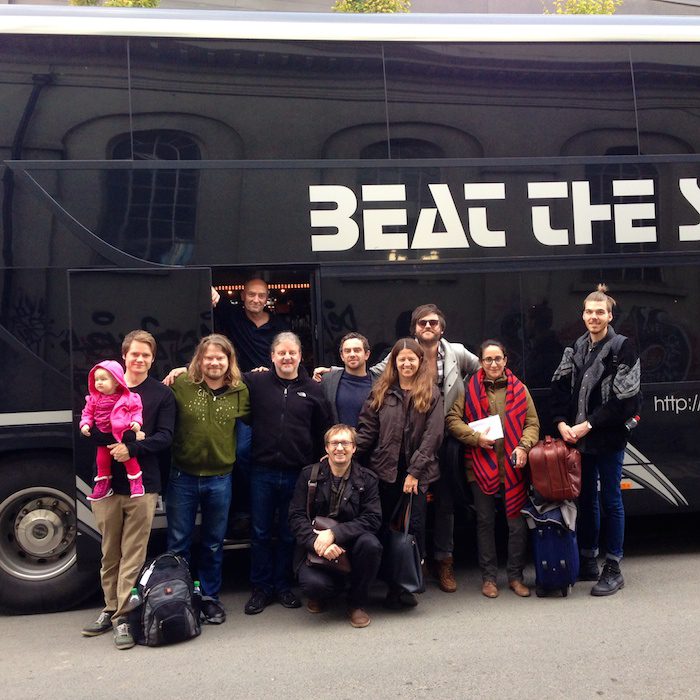 Ok. It's been a couple of weeks now since I came home from touring with my new record MUNA around the States and Europe, and although two weeks isn't a long time, it is perhaps long enough for me to have integrated at least some if not all the experiences of this adventure. I returned home with an immense sense of accomplishment, along with a mixture of joy, gratitude, pride, sadness and relief. I know from experience, that homecomings from these journeys are bittersweet, for as much as I celebrate all that has been accomplished and rejoice in being once again in the comfort of my home and reunited with family and friends, I also mourn the ending of a chapter of my life never to be re-opened, and miss the friends with whom I shared this adventure. As we say in Czech "You can never step into the same river twice.", for as the stream of a river is ever flowing in a forward motion, so does the river of life speed along and the only comfort to things ending is the knowledge that where one thing ends, another begins. Nothing ever stays the same, in fact change is the only constancy in life and the absence of regrets is perhaps ensured by staying present and making the most of our experiences while they last.
I had been looking forward to this tour ever since I finished working on MUNA, the album, for I have been quite proud of what had been created and the idea of sharing it with people filled me with excitement as well as anticipation and curiosity. A lot of time and effort went into preparing both the album release and the tour and many things had to be put into place before we could go forward. A big factor and change from all the previous times I prepared for a tour had been that I was now a mother, thinking about bringing our toddler with us and considering all the logistics of being on tour with a small child. Trying to imagine what that could be like and how it was going to work. On a mental level, I could only go so far with trying to picture something I had never experienced before, let alone sufficiently prepare myself for the reality of it. On an emotional level, I was nervous just as much as I was excited. But on a spiritual level, I knew deep down that the timing was right, and the people who were participating were right, and that once these two elements were in a place, all else could and would be fine-tuned along the way.
My partner and I had done enough trips with our little one prior to touring to know she was a good and easy traveler, who seemed to enjoy being stimulated by new things and places to discover and explore over a set routine and too familiar a place. We also knew that she was not a good passenger in a car and planned to avoid car and van trips as much as possible. We knew she perceived every ordinary object as a toy and the world as a playground and that with a little bit of imagination we would be able to keep her entertained in any setting. We knew our little girl to be a very social little critter who would thrive in the company of the lovely people that the touring party would consist of. And we knew that we were bringing a babysitter, my mom, with whom she was already familiar and whom we trusted enough to be comfortable leaving her in the care of during the times we would need to be absent from her. Equipped with at least this much knowledge about what we could expect, we went ahead hoping for the best possible outcome on all fronts but prepared for hard work and growing pains.
I was so pleasantly surprised by the responses to the album, once it finally came out. I knew there were people out there who would connect to it in meaningful ways, but I also understood that there were people who would not make any connection at all, and that was ok with me. After all, I was never trying to please everybody. But the overall reaction had been so positive and openminded, it uplifted and delighted me in the loveliest of ways. I gave thanks for all the support and love that was channeled towards me from all directions. I received this love and positive energy with a wish for it to be magnified, multiplied and intensified, then sent back whence it came and anywhere else it was needed at the time. This album was a collaborative effort and I hoped that all who created it with me were as proud as I was.
My band and I enjoyed the same warmth and support during the live shows. We played small and intimate spaces that offered a very personal experience for both us on stage and the people in the audience who were always so respectful and listened so attentively, but were ready to be heard when invited. There were five of us on stage. Rob Bochnik ( guitar ) and Joe Doyle ( bass guitar ), members of The Frames and The Swell Season, were wonderful to have around for their outstanding musicianship and the comfort of having old friends, colleagues and mentors on board.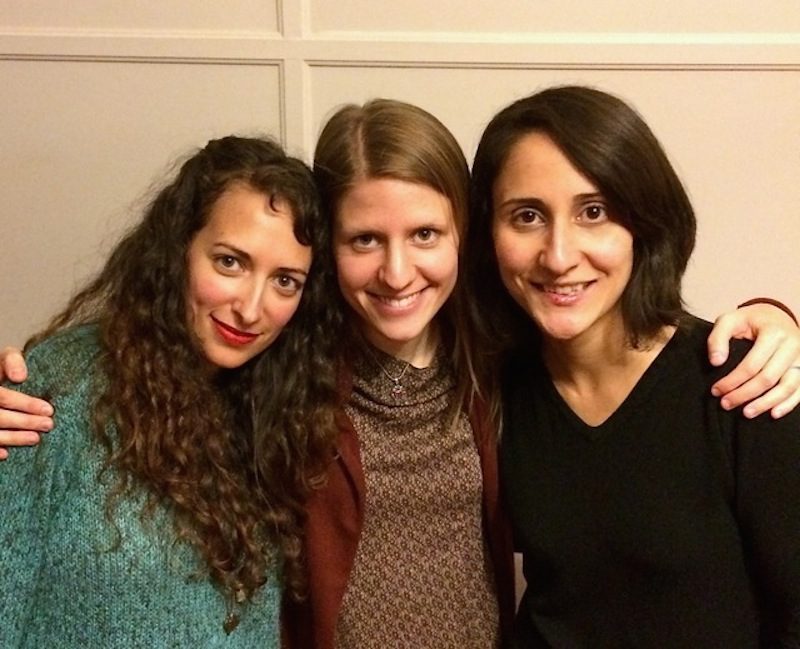 Aida Shahghasemi ( daf and vocals ) has been a dear friend and sister to me for what seems like a very long time, and our collaboration has been immensely inspirational and fruitful in its nature. Aida and Rob also took part in the recording of MUNA and it was of great importance to me to have them as part of the band for that alone.
Rosi Golan ( vocals ), who joined us as a support act for the entire tour also became a member of our band and contributed by lending us her stunningly beautiful voice. When she did not accompany us to Iceland for the last show, her absence was very much felt and she was sorely missed as the wonderful presence she is, on and off stage.
An added bonus and a most pleasant surprise was having Brandon Walters, Rosi's guitar player join us on a couple of songs during our set. He was a rather unknown quantity to us prior to this tour, but he quickly became a most cherished companion who brought so much laughter and merriment to every situation. As I was mostly busy with taking care of my little one during Rosi's and Brandon's set, I did not get to see and hear as much of their performance each night as I would have liked, but I loved what I saw and heard when I got the chance and felt very honored to have these two talented people add so much to the evening.
We had an extra member of the band who could not be seen on stage but contributed greatly from the front of house where he mixed our sound – my partner Sturla Mio Thorisson. Mio is one of the most dedicated, multi-talented and hard working people I have had the pleasure of knowing in my life, and he worked so very hard to make our shows as good as they could be. We had little time to spend together while on the road, but both of us were in our element doing what we love doing most – being creative, and after staying at home with our baby for the most part of the past year, it felt good to be seeing the world again, being around other people, feeling proud of each other and working towards a common goal.
We also had wonderful tour managers – Katie Muldoon in The US and Fiacre Gaffney in Europe. They both did an amazing job and have my respect and gratitude. I did not know nor had I worked with Katie prior to this tour, but she came very highly recommended and lived up to every good thing that was said about her. Her organization skills are incredible. She was always in control and a step ahead of everyone, anticipating each outcome in advance and sorting every situation out before it had a chance to become a problem. I also enjoyed getting to know Katie as a person, and had grown very fond of her over the course of the tour.
Fiacre and I have know each other for many years and have gone on a good few tours together. In fact, he was present during my very beginnings as a touring musician and having him on this tour was a lovely opportunity for me to reconnect with him after all that time. He came on board last minute and had very little time to prepare or catch any rest before the tour he was just coming off of and our tour, but he still sailed through it like a pro, no bother to him at all. It has to be said, that Fiacre is well equipped to deal with any situation with a cool head and his attitude of "There is nothing that can not be fixed and panic is the enemy" is always very grounding and comforting.
In Europe we were joined by Einar Stefansson who sold merch for us. Einar was an intern at the Greenhouse studio while were were making MUNA, and he has been like a brother to me since. It felt like a full circle to have him be part of this chapter in some shape and form, but since he is a very talented sound engineer in his own right, I hope that in the future when we are in a position to bring our own monitor sound technician, he will be our man – taking care of sound on stage while Mio covers the front of house sound.
My mom, Jana Irglova, came along to help us with our daughter and to take advantage of the opportunity to spend some time with her granddaughter. It has been difficult for her to be so far from her first grandchild and not be able to see her as often as she would like. I think she ended up having quite the adventure in the end, seeing places she had never yet visited, reconnecting with some friends and experiencing what a life on tour was like. She fit right in with the group too and everyone appreciated her late night snack making.
We decided to travel on a tour bus, which is my very favorite way to tour. It is costly, and that is probably the only reason anyone ever chooses to travel in a van instead, but the benefits of traveling on a bus are many. For a start, no one from the traveling party has to drive, for each bus comes with an experienced driver who gets his passengers from a to b during the night while everyone sleeps (or stays up and parties :-). One misses out on experiencing the drive itself and enjoying the scenery, but when a day does not have to be spent traveling, it can be spent exploring the city and connecting with each place before it's time to move on. Inside the bus, there are lounges for people to hang out in and bunks to sleep in. The rocking of the bus can be quite comforting at night, granted the driver is taking it easy and not slamming on the breaks, which results in waking up with a jolt and a terrifying feeling that something very bad is about to happen. We had wonderful drivers this time around- Harry in the States and Norman and Christof in Europe. My deepest gratitude goes to them also.
Another thing I like about the bus is that a touring party becomes very close this way. There were eleven of us all practically living together in a very small space. I enjoyed very much having interactions with everyone upon waking up, during the day and especially after the show when we would all eventually find our way back on board before bus call ( time to start driving), and chat, listen to music, watch movies… On a day off, of which there weren't many this time around, it is nice getting to sleep in a hotel room, but I always miss everyone and the dynamic of a collective.
My most favorite thing about touring on a bus is that a bus becomes a home, a comfort zone, an unchanging element amidst all the daily changes. It is always there, parked outside of the venue, available at all times for warmth and comfort. One can make a cup of tea and a sandwich in the little kitchen, or climb into a bunk and read a book. Everyone slept in bunks on this tour except my partner, myself and our daughter. We got one of the lounges turned into a little bedroom, which was nice and worked well for us.
Going into these two tours, I though I would be taking lots of pictures and making daily updates on Facebook, but I ended up having my hands full all the time and so few opportunities to do either. Our little daughter, as much as she was loving the experience of being on a great adventure and was so very good all the time, she did not do well with me leaving her behind no matter how familiar and comfortable she was with my mom. I knew it would be hard for us both at first, but that it would get easier with time. I got more and more comfortable with not being at her side all the time, but her separation anxiety grew worse as she started to anticipate the times I would be leaving to soundcheck and then perform, and it was very hard to be walking away from her while she stretched her little arms towards me and looked at me with a mixture of confusion, hurt and helplessness. It is a very hard thing to get used to for any parent I'm sure. I tried to make up for my absence at the necessary points in the day by being with her all the other times. This allowed my mom to go exploring a little each day, to keep a diary of her journey and be in regular touch with my dad who was left home alone for probably the longest time in their relationship. Their separation during our tour in the States, however, was made up for in Europe when dad joined us. We had three shows in Czech at the beginning of the tour. He hopped on the bus and stayed with us until the end.
To sum up, this tour was one of the nicest and most enjoyable I've ever been on. Also one of the most challenging. I guess the two aren't mutually exclusive. We played in truly lovely rooms all around, thanks to our booking agents Claire Courtney in Europe and Ali Hedrick in the States. Everything was so well organized, thanks to our managers Claire Leadbitter and Howard Greynolds, tour managers and some very good and important helpers-Tarina Aumiller, John Tosch and last but not least, my partner Mio who put so much time and effort into arranging all kinds of logistics. My dad, Marek Irgl, organized our three shows in Czech Republic, and Kári Sturlusson one concert in Iceland. The people who came to our shows were a pleasure to play for and meet afterwards. I treasured signing every copy of our record, with a sense of amazement to be holding a physical copy of it in my hand and for someone to be bringing it home with them. It was a lovely time of the year to be on the road. I loved seeing the cities in their autumnal colors. The time that passed between this tour and the last made it all the more special to be revisiting some places and seeing others for the first time. The life of a musician has it's challenges like any other life and occupation, but it is truly a good life. I am grateful. Thank you all for making this possible 🙂
Thank you -Anti Records in USA, Canada and Europe, Indies in Czech Republic and Smekkleysa in Iceland for giving MUNA a home.